Our 4-category rating system: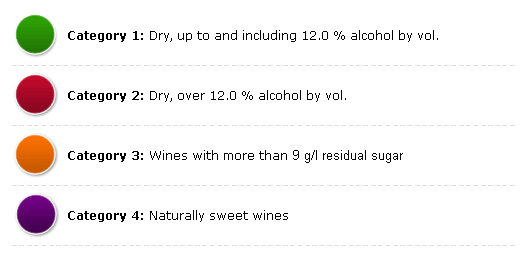 To make sure that you can find the wine that's right for you, we never toss all of the wines into one basket when assessing them. If we did, heavy wines, rich in alcohol, would have an unfair advantage over the finesse of lighter, more delicate wines. High levels of alcohol are not the sole distinguishing factor when making a wine selection. 
Many wine fans look for lighter, dry wines to match with certain occasions or special dishes. It goes without saying that these wines must be of excellent quality. Yet it would be unjust to pit such elegance against, say, a heady red from a southern growing region. A prime example is German Riesling. So, we created the category 1

 for dry wines with up to 12% alc. by vol.
Category 2
 caters to the international standard of heavier, full-bodied wines.
Category 3

 assesses off-dry, semi-sweet and sweet wines. Dry wines are not everyone's favorite; not every culinary delight goes well with a dry wine. When considering a spicy dish, the best food and wine pairing choice is an off-dry or semi-sweet wine. And dessert tastes best when enjoyed with the richness of a sweet wine.
Little need be said about category 4 

 , which includes luscious wines like Auslese, Beerenauslese, Traockenbeerenauslese and ice wine. It's obvious that such wines cannot be compared with the racy, light wines of the other categories.
Assessment

The assessments in each category are based on the conventional
100-point rating system.
Point scale:
80 to 84 points
good

(yet we publish starting with 82 points)

85 to 89 points
very good
90 to 94 points
excellent
95 points and up
extraordinary
Only truly blind tastings is our first commandment
Criteria No. 1:
No person employed by bonvinitas shall take part in the evaluating of wines, nor shall he or she influence the tasting in any way. Any such activity would be an absolute "no-go" in our eyes. The sole task of bonvinitas is to prepare and organize the tastings.

Criteria No. 2:
Evaluations shall be completed by independent sommeliers and other wine experts. bonvinitas always pays strict attention to the experts' esteem and credentials.

Criteria No. 3:
The tasting is 100 % blind. Information such as producer or wine region shall not be disclosed to the tasters. Country of origin, grape variety and vintage are the only criteria given when the tasting takes place.

Criteria No. 4:
The evaluation shall be based on the well-established 100-points rating system. 80-90 points show a grade of  "above average" or "very good".  90-95 points indicate an "outstanding" wine. Wines with 96 points and above are "extraordinary ".